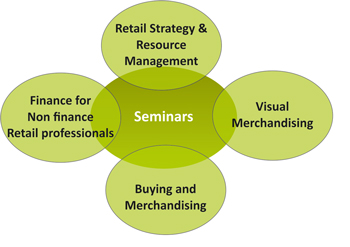 RAI's range of workshops and seminars are short refresher courses aimed at upgrading functional skills. We focus on the key aspects of the retail value chain:
Operations, Visual Merchandising, Buying and Resource Management. Our courses include:
1. Retail Strategy and Resource Management (RSRM)
2. Effective Visual Merchandising for Superior Customer Experience and Sales
3. Workshop on Buying and Merchandising
4. Finance for Non-Finance retail professionals
RAI also creates customized "Corporate Training Programs" to provide retail organizations with an effective and affordable way to train and manage their people and in turn improve customer service and increase sales.
Every corporate training program from RAI contains valuable information and techniques that is a result of working in the field, solving problems and generating sales for stores. Our experts rely on their years of practical retail experience to devise systems that make running a retail store easier and more profitable.  
For further details, on our seminars, workshops or corporate training programs please contact:
Lawrence Fernandes, Director - Retail Learning, Mobile: +91 9029089915 | This email address is being protected from spambots. You need JavaScript enabled to view it.