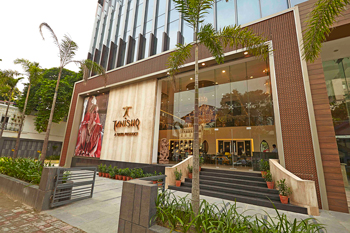 Tanishq, the reputed jewellery brand from the house of Tatas, inaugurated five retail outlets in Mumbai, taking the total number of outlets in the city to 17. The brand has achieved a significant milestone by launching over 19,600 square feet of new retail space on a single day in one city. Four new retail outlets under brand Tanishq have been launched in Vashi, Vasai, Thane and the Chhatrapati Shivaji International Airport (airport-domestic departures , T 2) ; and a new standalone store for sub-brand Mia by Tanishq has launched at Viviana Mall, Thane.
The stores were inaugurated C K Venkataraman, CEO – Jewellery Division, Titan Company Limited.
Sharing his thoughts on the occasion, the CEO said, "We are delighted to announce the launch of five new stores in Mumbai today, which is a commendable milestone in Tanishq's retail journey. Mumbai, a city that is bustling, rich in cultural heritage and embraces modernity, has always been an extremely important market for Tanishq. With increasing demand, we decided to expand and enhance our retail presence in the city. We aim to continue to provide our customers in Mumbai with exclusive designs, superior craftsmanship and guaranteed product quality through our seventeen stores across the city. Not only will we offer them the best in class jewellery, but a holistic shopping experience with superior customer service."
Located in Sector 17, the 10,000 square feet Tanishq store in Vashi is a commendable three-storey outlet, with each of the floors housing plain gold jewellery, wedding and diamond jewellery, and solitaire and high value diamond jewellery respectively. The space is impeccably designed with Tanjore and Kalamkari artwork, jaali work and wooden railings, bringing alive regal, old world charm. The Thane store has been re-launched at Gokhale Road to a newer and bigger outlet. The two-storey store houses gold and wedding jewellery and has a separate floor for diamond jewellery. Tanishq has also launched a new store in Vasai, the first in the area as well as at the Mumbai Airport. Mia by Tanishq, a sub brand of exclusive work wear jewellery, has launched its sixth standalone store in Mumbai on the very same day.