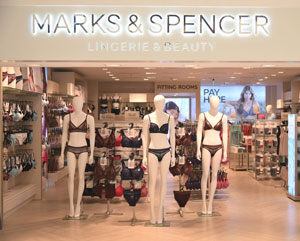 Marks & Spencer (M&S) continues to ​expand its footprint in Lucknow with the launch of the first standalone Lingerie & Beauty store in the city at One Awadh Mall.
The new 1,520 square foot Lingerie & Beauty store is the sixth of its kind in India.​It aims to offer women quality, stylish and innovative lingerie and an edited beauty offer in an inviting and inspiring shopping environment.
The store also showcases a dedicated beauty offer of skincare, fragrance, bath and body products. Experienced and well-trained lingerie experts will be on hand to offer free bra fitting services, to ensure everyone can discover that perfect bra fit.
Mohit Bhayana, Head of Retail, Marks & Spencer Reliance India, said: "Customers across India have really embraced our high quality, excellent value lingerie and beauty offer and we see a lot of potential in the Lucknow market. Combining expert advice, outstanding customer service and a specialist product offer, our new store at One Awadh Mall offers customers a truly unique shopping experience and we really look forward to welcoming customers to the store."
Since 2008, when M&S signed its joint venture partnership with Reliance Retail, M&S has accelerated its expansion across India and now has a presence in 27 cities along with an online presence through leading online platforms Amazon.in, Myntra.com and Ajio.com.