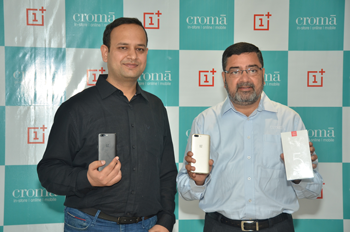 Croma, the leading CDIT retail chain in India, has partnered with mobile technology company to start retailing Oneplus products at its retail stores. This is the first ever offline partnership of this kind for OnePlus anywhere in the world. Hitherto, it only retailed products online.
"Aspirational products such as OnePlus need to be experienced. Croma is happy to be the chosen Experience Partner for OnePlus and we believe we can add a lot of value by providing a great touch and feel experience and after-sales services," Avijit Mitra, CEO – Croma, Infiniti Retail Ltd, said.
As a part of this association, OnePlus and Croma will set up exclusive experience zones with live demo phones on display and customers will also be able to interact with the stores' staff trained by the smartphone manufacturer on the products to help address all product queries directly. Croma will also act as the link between customers and OnePlus with regards to after-sales service.
To begin with, Croma will only retail OnePlus 5, the latest flagship smartphone from the manufacturer. The rest of the products will slowly be made available in due course. Also, the devices will be available in 10 Croma stores—Devarc Mall in Ahmedabad; Belapur, Lower Parel Phoenix Mall and Vasundhara (Juhu) in Mumbai; Jubilee Hills in Hyderabad; Pimpri in Pune; South Ex and DLF Mega Mall in Delhi NCR; Phoenix Market City in Chennai and Indraprastha in Bengaluru. Later, as the back-end processes and service infrastructure get set in other cities, OnePlus products will gradually be launched to 100s of other premium Croma stores in a phased manner.
At Croma, all OnePlus products will be available for sale at same price as online channels and would include consumer offers as available on all other authorized channels. Additionally, customers will benefit from promotion campaigns run by respective Croma stores.
Speaking at the occasion, Vikas Agarwal, General Manager, OnePlus India, said, "Going forward, all channels will converge to give rise to a single omni-channel commerce kind of platform. This partnership is a step in this direction for us. This is the first time that we are joining hands with a partner offline and we are excited that we are doing this with Croma in our biggest and the most important market. Together we want to make sure that our offline experience is closest to want we want to offer."
He added that the partnership with Croma will greatly benefit OnePlus customers as they will be able to avail the various promotions and loyalty benefits Croma offers.