Arvind Ltd, in collaboration with INVISTA (the makers of Lycra), showcased its exclusive new GRAVITY collection of next-generation denims in Mumbai. On display was a new line-up of IKAT DENIM, BOOMERANG 360, CHROME CORD and HYBRID CHINOS—among other innovations in stretch and indigo based denim. The company launched a new variety of denim- Azurite- that offers greater contrast in colours while maintaining a saturated shade.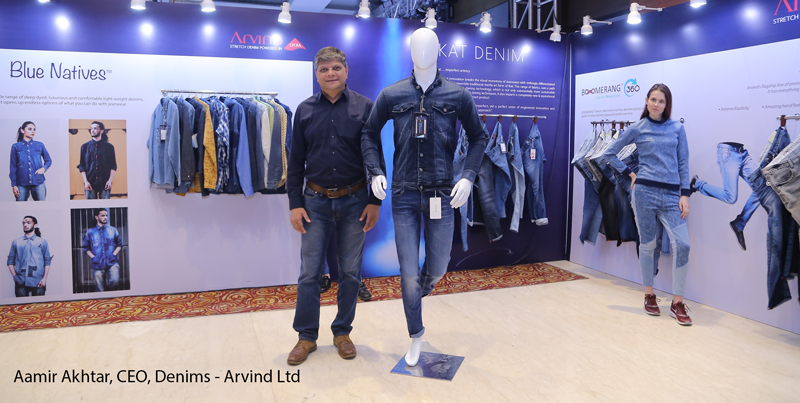 On the occasion, Aamir Akhtar, CEO, Denims, Arvind Ltd spoke about the key aspects the company was working on and how they will shape the future of denims in the country. "We create large value for key customers on three things—innovation, design, and sustainability," he said.
INNOVATION in product development
Breaking the limits on the use of Indigo only on denim, the company has developed ways to use the dye on materials like metal and wood, bringing Indigo to furniture, footwear, and many other sectors, opening up new possibilities and lines of business. Furthermore, the company is working on reimagining denims in various ways to suit all tastes and age groups. For instance, the company manufactures Khadi Denim in collaboration with village artisans in partnership with KVIC; it has also developed special design for kid's denim that doesn't tear at the knees in case of falls.
DESIGN through Collaboration and Technology
A lot is happening on the denim front, and it is driven by technology and collaboration. Arvind is investing heavily on cutting-edge technology and joining forces with partners across the globe for better fabric and design. One such collaboration is with international laundry experts Giovanni Petrin & Andrea, people behind the success of famous Italian laundry, Martelli. The partnership has led to a more sustainable way of washing denim.
The Infusion of Lycra fabric by INVISTA, long standing partner to Arvind, made the enhancements in Boomerang 360 & Boomerang Bounce possible, and also paved the way for bringing the moisture releasing Coolmax Eco Made denims to India. Invista is working with Arvind on more product innovations.
The denims of the future will be sustainable, eco-friendly, innovative and made using the cutting-edge in technology. They will be comfortable, anti-microbial and endowed with many unique qualities.
SUSTAINABILITY for the future
A division of the company, Arvind Denim Lab (A.D.L.) is responsible for working with key customers and collaborating on design and other innovations. "Denim is all about washing," said Aamir Akhtar, CEO, Denims, Arvind Ltd. With the help of Italian laundry experts, ADL has managed to infuse their denim manufacturing with cutting edge methods of washing, reducing the water footprint in the process to just a single glass of water instead of 70 litres used per pair of jeans.
"We have worked on sustainability, right from fibre, to dyes, to the last mile." He added, also mentioning that Arvind is a founding member of the Sustainable Apparel Coalition (S.A.C.) and Better Cotton Initiative (B.C.I.) and scores high on the Higg Index score that measures the sustainability factor of an organisation. Arvind also works on recycled fabric.
Being a brand behind brands, Arvind Denims is currently producing 40%-50% of the denims for international brands like Levi's, US Polo, Pepe, and Indian brands like Killer, Spykar, in India. It plans to maintain its current annual growth rate of about 15% in the coming years.
- By Chetan Nayak