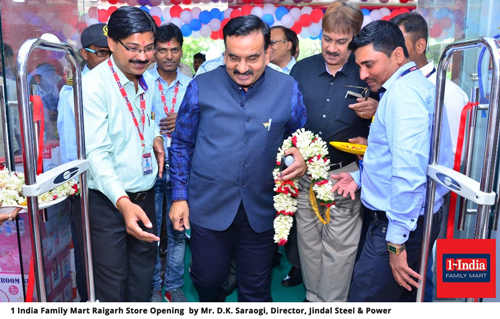 Delhi-based Nysaa Retail Pvt. Ltd, which operates a chain of affordable fashion stores under the brand name '1-India Family Mart' across Eastern and Northern parts of India, announced the launch of its first store in Raigarh, Chattisgarh. The store will be a one-stop-shop for innovative and affordable fresh fashion apparel and general merchandise.
The store was inaugurated by D K Saraogi, Director, Jindal Steel & Power Ltd.
Speaking at the inauguration, Ravinder Singh, Co-founder & COO, 1-India Family Mart said, "There is an increasing demand for affordable fresh fashion in an organised retail format amongst the aspirational class in India, which has motivated us to extend and strengthen our brand presence further. The aspirational segment in the Tier II & III cities has shown a high desirability to keep up-to-date with the latest trends in style and fashionable merchandise and 1-India Family Mart takes pride in being able to cater to our customer's requirement."
Last year, the company raised a sum of USD 6.5 million from Carpediem Capital. 1-India Family Mart plans to utilize the funds towards expansion and strengthening technology & capabilities.
Nysaa Retail Private Limited, the holding company of 1-India Family Mart was established in 2012 and began operations in 2013 with the first store in UP. Soon, it expanded operations to Bihar, Jharkhand, Chhattisgarh, and North East. Today, 1-India Family Mart has 54 stores across East and North of India.