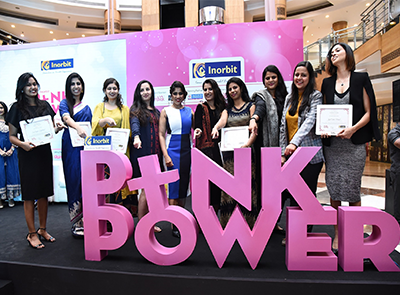 The fourth edition of Inorbit's Pink Power initiative that empowers women entrepreneurs drew to an illustrious close recently. The season received close to 538 entries with business set-ups across various verticals like Food, Skin & Beauty, Home décor, handicraft, and much more. After a lot of deliberation, the judges finally chose the 10 promising women entrepreneurs as winners, who won free retail space within Inorbit Malls for a period of nine months. The winners hailed from like Mumbai (Malad & Vashi), Bengaluru, Hyderabad and Vadodara and were felicitated by youth icon Malishka Mendonsa.
MUMBAI (MALAD):
Vamaxi Mody (Founder of Nutricion): Nutricion offers a healthy range of home-grown power foods that include Granola Cereals, Dairy Free Stone Ground nut butters, Sprouted and classical flavours, Energy bars and Dairy Free milk.
Jyoti Chhetri (Founder of Wag & Love): The brand is dedicated to offer a new-age, natural and grain-free dog food.
NAVI MUMBAI (VASHI):
Krishna Tamalia Vora (Founder of Mom's Therapy): Mom's Therapy offers a range of herbal oils, Scrubs and Hair packs.
Sujata Hanchate (Founder of Shommy Snow Ice): It offers a unique mix ice-cream made of snow ice grated to a fine texture and low fat cow milk, sugar and fruits.
Vritti Vaswani (El Postre): It offers freshly baked cakes and desserts.
BANGALORE:
Kinnery Garg (Founder of Arome Herbals): Arome Herbals offers a wide range of handmade soaps, body lotions, face scrubs, pure essential oils and natural skin care products.
HYDERABAD:
Sai Deepika (Founder of Sippy Monks): The brand offers a unique spread of milkshakes and mocktails with a blend of tender coconut milk and tasty flavours.
Shipra Nayyar (Founder of Ozel Bir Say): The brand offers handmade potli bags, clutches, bridesmaid hampers, wedding giveaways and jewellery.
VADODARA:
Suvarna Solanki (Founder of Salad Republic): The product offerings includes Salads, juices and shakes.
Devashree Rawal (Founder of Humble Bee): Humble bee offers Handcrafted natural bathing essentials like soaps, bath salts and fragrances sourced from 100% natural ingredients.
In addition to the retail space, Inorbit will mentor the winners with the support of TRRAIN (Trust for Retailers and Retail Associates of India) for understanding the operations in a retail format and grow their business. The Central Bank of India too has associated with Pink Power to offer soft loan assistance to the winning entrepreneurs.
Speaking about the initiative, Naviin Ibhrampurkar, Head of Marketing and Corporate Communications Inorbit Malls Pvt Ltd, said, "We have got the best 10 out of so many entries that we received this year. Wishing the winners great success and a grand welcome in the Inorbit family."