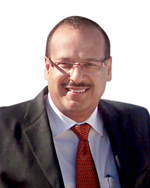 The Sheth Developers & Realtors Limited owned, Viviana Mall has brought on board Manoj K. Agarwal as its new CEO. A seasoned professional from the Hospitality and Shopping Mall industry, Agarwal, who has over 30 years of leadership experience, previously has had stints with L&T (Retail, Malls & Commercial) and Inorbit Malls.
At L&T Realty, he spearheaded the company's Chandigarh's SBU, which included Elante Mall along with a premium office space and 5-start Hyatt Regency Hotel. Path-Breaking achievements in record time called for an internal move at L&T, where he was appointed to head the mall operations as part of the L&T's Hyderabad Metro Rail Project, the world's largest Public-Private Partnership Project in the sector.
During his stint with Inorbit Malls, he was head of South and West India Mall operations.
Agarwal's career also includes holding leading positions in the hospitality sector with companies like Holiday Inn, K. Raheja Group of Hotels, Mahindra Days Inn and the Ashok Group of Hotels (ITDC).
Agarwal has completed his Hotel Management from the premier IHM, Pusa, New Delhi. To add to it, he has also completed his Level I and Level II ICSC certifications in Shopping Centre Management as well.