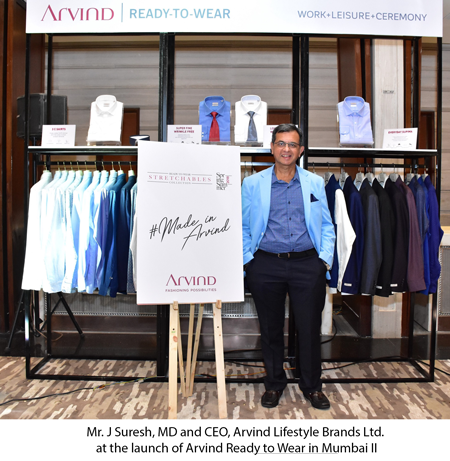 Mr J. Suresh, Managing Director and CEO, Arvind Lifestyle Brands Ltd., announced the launch of its private label 'Arvind – Ready-to-Wear' on April 4th in Mumbai.
A balance between aesthetics, flexibility and functionality, the collection aims at being a solution for work, leisure and ceremonial clothing, all under one brand name. "Our capacity in shirting is no less than denim," claimed Suresh, who wants to increase Arvind's presence in the b2c textile market, apart from their large b2b denim manufacturing segment.
The collection is divided into work, leisure, and ceremony, presenting many new features. "At the heart of the brand will be innovation" said Suresh who believes that keeping the many needs of the modern Indian customer in mind is the key. "The winner is going to be someone who is able to quickly respond to the market," he added.
Apart from being available online at Amazon and www.nnnow.com, the collection will be exclusively available at Arvind stores. "This will increase Arvind's own offering in the stores while giving them an advantage over other stores," said Suresh. Arvind Ltd. already has 150 stores, and plans to open 60 more this year.
The Ready-to-Wear collection will be available across 127 cities across the country in the first phase and aims to gross Rs 50 crore in the year, and Rs 200-250 crore in the next 3-4 years, explains Suresh.