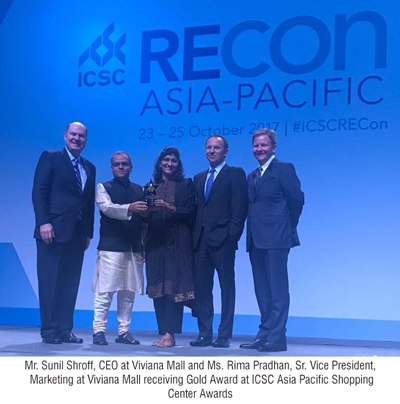 Viviana Mall, leading destination mall in Mumbai Metropolitan Region is setting higher benchmarks in the Indian retail real estate industry. With only four years of operations, the mall has garnered five consecutive awards at the ICSC Asia Pacific Shopping Center Awards for its varied campaigns and initiatives.
This year, Viviana Mall bagged a Gold Award in the category 'Cause Related Marketing' at ICSC Asia Pacific Shopping Center Award, 2017 at a plush award ceremony in Bangkok. Viviana Mall's campaign, 'Job creation for PwD's in Viviana Mall' which helped persons with disabilities (PwDs) to acquire skill set required in the retail industry and gave them a chance of equal opportunity for employment in the retail outlets.
Receiving the award, Ms. Rima Pradhan, Sr. Vice President, Marketing at Viviana Mall said, "It's a moment of pride and celebration for us at Viviana Mall with our efforts being recognized at the global arena. Having added five ICSC awards back to back every year in just four years of operation is a feat that remains unparalleled in the Indian retail real estate industry."
"This year the award is also special because our efforts to provide equal employment opportunity to PwDs has been noticed which will also sensitize and prompt other players in the industry to come forward and join the initiative. We shall continue with our focus and zeal towards creating path breaking campaigns in the sector." She added further.
Since 2014, the mall has already won Gold Award, Best of the Best Honoree Award, VIVA Best of Best Marketing Award and Silver Award in the previous installments of global platform of ICSC Asia Pacific Shopping Center Awards.
A part of Sheth Corp, Viviana Mall covers over 250 leading brands in its prime retail and leisure space. The mall is India's first and only visually impaired friendly mall and has also launched "XRCVC-Viviana Extension" a resource centre for visually impaired.