A Global Investors Meet is being planned in Dharamshala, Himachal Pradesh, on 10th- 11th June 2019. A road show was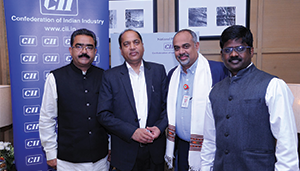 scheduled in Bengaluru on 30th Jan 2019, where senior leaders from varied industries were invited to be a part of the event. SPAR represented the retail industry. At this event, SPAR India's MD and CEO, Rajeev Krishnan & Solai Shakthivel, Senior Vice President - Buying and Merchandising Foods had the opportunity to have a one-on-one interaction with the Honourable Chief Minister of Himachal Pradesh, Jai Ram Thakur and the industry minister Bikram Singh.
Himachal Pradesh known as the "Fruit bowl of India" is famous for its abundance of crisp, juicy apples as well as for its pears, peaches, plums, grapes, apricots, mangoes, strawberries and citrus fruits. The fresh produce SPAR India offers its customers is mainly sourced from Himachal Pradesh. Committed to building strong farm to fork relationships, it will be working jointly with the state on sourcing and developing its private label products – soaps and handicrafts etc which in turn will support the growth of SMEs in the state.