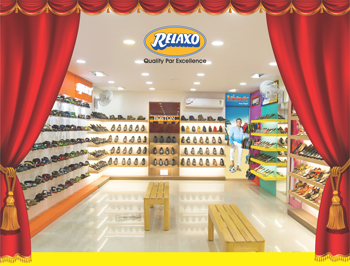 Relaxo, India's leading footwear brand, recently launched its 250th store at Sector 3, Rohini in Delhi. Spread over 1119 sq ft., the new Relaxo outlet offers popular Relaxo brands like Flite, Bahamas, Sparx, Schoolmate, Hawaii, Maryjane, Boston and Kidsfun. It has a range of more than 400 articles to choose from flip-flops, formal wears, home slippers, office wears, school shoes, sports & casual shoes. The company has invested a whooping Rs 15 lakh on the setup and Rs 40 lakh on inventory to offer an unforgettable experience to visitors.
Nitin Dua, Executive Director, Relaxo Footwears Ltd. said, "Relaxo is steadily increasing its reach in different markets in the country through exclusive brand outlets. Delhi is a primary and big market for the brand and the launch of new store serves as catalyst to the company's growth in the region. Going forward, the brand aims to invest more in different regions through forward-looking business strategies to create a niche trendy and affordable footwear market in India"
Relaxo Footwears was founded in 1976 by ML Dua and RK Dua. Since its inception, the company has gone on to become one of the largest producers of footwear in India with an estimated business value of 17 billion in 2015. It is retailed in 25 countries around the world. The brand also has a strong presence on all leading ecommerce portals and has its own online shopping portal www.shopatrelaxo.com.