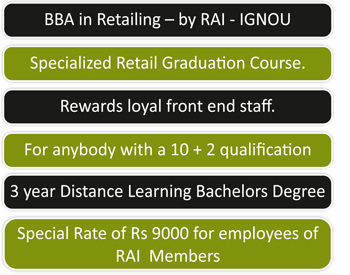 RAI has tied up with the Indira Gandhi National Open University (IGNOU) to offer a three year BBA in Retailing through distance learning.
RAI - IGNOU's 'BBA in Retailing' is a unique instance of University-Industry collaboration.
Eligibility:  Any employee of a RAI member, with 10+2 qualification.
IGNOU offers this program to the sponsored candidates of RAI member organization at a special rate of Rs. 9,000/- per year.

 Highlights

- The Programme has been developed by key retail industry experts and academicians.
- The three year course includes on the job training (internship) in the first year.
- The course starts from first week of November every year. Completed applications must be received by July 31 every year.
- Sponsored candidates continue to work with your organization, and can be mentored by their supervisors
Download Brochure      Download Application Form