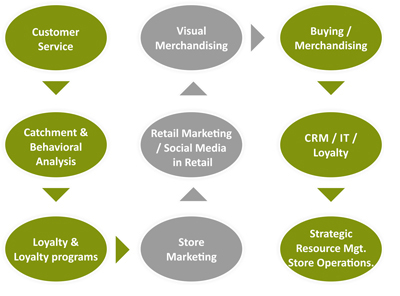 Retailers Association of India has developed a Bridge Course in Retail Management for students already pursuing MBA.
The 5 day course provides an understanding of Retail. It helps to bridge the knowledge gaps between a standard MBA and a industry focused Retail MBA.
Key modules of the course are shown in the graphic.
Course Duration: 5 Days (6 Hours per day)
Venue : College Campus.
Batch Size: Maximum of 40
RAI will:
1. Organize course faculty including material and modules.
2. Arrange for internship for the participants of the programme in Chennai/Bangalore/Hyderabad/Mumbai.
3. Assist in placements for candidates
The Students will be awarded a certificate at the end of the programme
Service tax as applicable will be charged extra. Costs include faculty fee and course delivery fee but excludes travel and accommodation cost, if any.
Contact:
Lawrence Fernandes, Director - Retail Learning, Mobile: +91 9029089915 | Email: This email address is being protected from spambots. You need JavaScript enabled to view it.