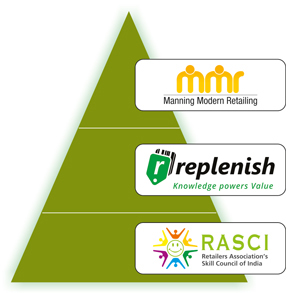 Manning Modern Retailing (MMR):  This annual HR Conclave focuses on developing ideas and resource capabilities to help  the Industry create mature people management process. It is also the platform for convergence between Retail,  Education Institutes and skill development efforts of government and the Industry.
Replenish: Replenish is RAI's daily newsletter which aggregates news, trends, insights and jobs for Retail which reaches 1,20,000+ retailers everyday.  You can sign up here.
Retailers Association Sector Skill Council (RASCI):  RASCI is the sector skill council for Retail -  under the aegis of the National Skills Development Corporation (NSDC).  RASCI has the mandate to develop skills and training capacity – and train 8.8 million people to bridge the skill gap in the industry, in the next 10 years.