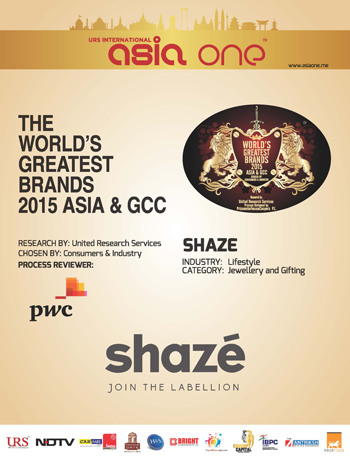 Luxury gifts retailer shazé has been awarded the 'World's Greatest Brand, 2015 – Asia and GCC'. The awards were held at the INDO-UAE Business Summit 2015 in association with IBPC – India Business & Professionals Council UAE under the auspices of Dubai Chambers of Commerce, UAE. This was an initiative of the United Research Services International and AsiaOne magazine research project with PwC – PricewaterhouseCoopers as the Process Reviewer.
The most powerful brands from all genres of Business, Politics, Sports, Entertainment and Fashion were seen at the summit. Business and corporate leaders from marketing, advertising spectrum across Asia attended this event.
The global lifestyle brand shazé is about self-expression that offers unique and diversified products with a high street lifestyle, envisioned by Samrat Zaveri. shazé started as a silverware brand, which has now evolved as a premium lifestyle and gifting brand with exclusive products to celebrate individualism, standing out of the herd. The brand is known for its innovative and contemporary designs with artisans creating products exclusively for shazé from across the world. It has premium stores pan-India.