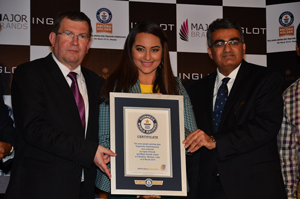 On Women's Day 2016, Inglot, the world's leading manufacturers in colour cosmetics and its exclusive Indian Franchise Partner, Major Brands India achieved a Guinness World Records Title for "Most people painting their fingernails simultaneously at Palladium in Mumbai. Around 1,200 women participated in the event by painting their nails with Inglot O2M breathable nail enamels. The brand broke the previous record of 1328 people painting nails simultaneously which was created by Taiwan Nail Association at Banqiao Stadium, New Taipei City, Taiwan on 27 April 2011. Jack Brockbank from GUINNESS WORLD RECORDS™ was present at the event to validate the record.
Bollywood actor Sonakshi Sinha was part of the initiative. Dr. Zbigniew Inglot, the Chairman of the Supervisory Board of the company INGLOT, Tushar Ved President of Major Brands India and Atul Ruia, Joint Managing Director of The Phoenix Mills Limited were present to grace the occasion.
"It is wonderful to have achieved the Guinness World Records title in India for Inglot & Major Brands India. Engaging with thousands of women through this initiative has been exciting for the brand. We look forward to creating new milestones and building a stronger connect with our consumers in India," Dr. Zbigniew Inglot, Company's Chairman of the Board of Directors said.
Speaking about the event, Tushar Ved, President of Major Brands India said, "We are overwhelmed by the Guinness World Records achievement. It has been great to witness thousands of women participating in this event. Inglot is one of the leading cosmetic brands in the world and are proud to have them in our portfolio of brands."
Expressing her excitement, Sonakshi Sinha said, "I am extremely thrilled to have been a part of this unique initiative on women's day. Achieving a Guinness World Records title is truly commendable and I would like to thank Inglot and Major brands for giving me the opportunity to create history along with thousands of other women."
Commenting on the association, Atul Ruia, Joint Managing Director of The Phoenix Mills Limited, said, "We are thrilled to be partnering with Inglot to host this first-of-its-kind event in India at Palladium. Over the years, Palladium has been able to attract a wide set of shoppers due to a careful mix of luxury, premium, high-street, gourmet and entertainment brands that it houses. This event is definitely a memorable one."