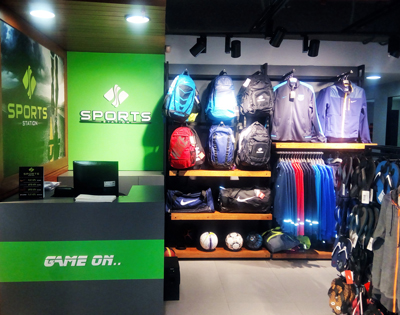 SSIPL, a well-known name in the footwear manufacturing and retailing industry, launched Sports Station, a chain of multi-brand sports stores. Sports Station endeavours to bring a plethora of international sports brands in sports shoes, accessories and equipment, under one roof. Its portfolio includes brands like Nike, Asics, Adidas, Reebok, Puma, Sketchers, Converse, Crocs, Solomon and Lotto, along with its in-house brand Mmojah. Sports Station also showcases specialty brands like Speedo and Wildcraft at its stores.
The first Sports Station store was opened at Connaught Place, Delhi in Dec 2015, and the brand is already on its way to create a half century of stores by the end of April 2016. While Sports Station will continue to expand into new markets and territories, it envisions becoming the top of the mind recall for customers looking for renowned international brands in the sports and fitness segment.
"Sports Station is positioned as a Sports Specialty Brand Hub which aims towards providing an elevated service and retail experience to our customers. We currently operate 45 stores across India, with presence in most of the major cities including Delhi-NCR, Chandigarh, Jalandhar, Amritsar, Meerut, Lucknow, Jammu, Jaipur, Gwalior, Indore, Pune, and Chennai. We intend to steadily increase our retail footprint across India and become synonymous with sports and fitness in the Indian mind-set," explained Pooja K. Sood, Business Head, Sports Station.
The SSIPL Group has two decades of experience in retailing of international sports brands. In fact, it can be credited for launching the brand 'Nike' in India. Besides retailing, the company has also been engaged in manufacturing footwear for several international sports brands including Nike, Puma, Bata and Lotto. The company is also engaged in licensing/distribution of Lotto and Nike fitness equipment in India. SSIPL is also a prominent retail partner with other international brands like Levi's, United Colors of Benetton, Lotto and Clarks.