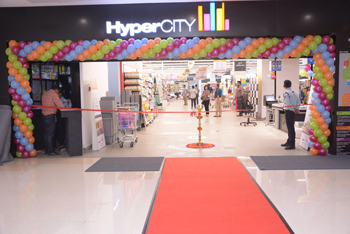 HyperCITY Retail (India) Ltd., has launched its third store in the Delhi-NCR, its second in Noida. With the launch of this store, HyperCITY now has a total of 19 operational stores across India.

Spread over a sprawling 49,000 sq. ft. the store is strategically located at the Logix City Center, situated in the heart of Noida. The store has been specially designed to offer a world class shopping experience along with unmatched service to local residents at never before prices.

The new store promises to offer 'Something Fresh every day' through its wide range of quality and value-for-money products all under one roof including an exemplary choice of products in food, home and fashion. The store provides its customers a world class shopping experience and boasts the finest range of products across categories such as Grocery, Fruits & Vegetables, Home & Personal Care, Apparel, Footwear, Small Appliances, Home Décor, Sports, Toys, Stationery, Kitchen accessories, Gifting, Fitness and more. There are also exclusive sections for Meat, Fish and Bakery products.

Additionally, the store also offers its own private brands across categories, having developed a suite of exclusive brands such as EveryDay, Terzo and Fresh Basket in Food & Grocery, Avorio, Ebano and Maxit in General Merchandise and RiverInc, City Life, Joojoobs, Iktara and Masala Chai in Apparel and Accessories among others, available only at HyperCITY.

Catering to the refined needs of up market urban consumers, HyperCITY has finest quality products from both Indian and international cuisines. This includes an exotic assortment of authentic food products among others such as organic foods, cheese, condiments, cold cuts, breads, wines and packaged products sourced from a variety of places around the world. Additionally, appealing to all health-conscious food lovers, the store also offers an extensive range of healthy alternatives in the health food section.

The symmetrically and well-arranged sections promise customers an easy and hassle-free shopping experience. Extra-wide aisles and extensively laid out counters are some of the distinguishing features of the new store.