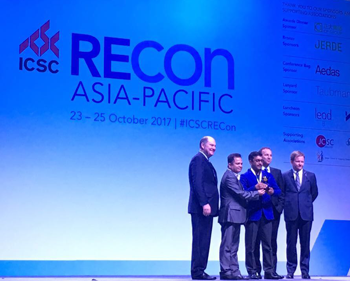 Inorbit Malls has won a Gold at the ICSC's Asia Pacific Shopping Centre Awards 2017 held at Bangkok. Inorbit Mall won under the Cause Related category for their very popular initiative- PINK POWER. Suman Chakraborty from the Corporate Marketing team of Inorbit Malls received the award for the company.
ICSC's Asia Pacific Shopping Center Awards recognizes excellence within the region's shopping centre industry and honours outstanding achievements in marketing and design/development of retail properties. In the past, Inorbit bagged a Silver at ICSC for marketing excellence & digital media.
Inorbit's Pink Power is a platform extending rewarding retail support opportunity to women entrepreneurs who have their own business set-up. Inorbit Pink Power calls out for entries where women entrepreneurs can showcase their business portfolio.
Speaking of their latest win, Rajneesh Mahajan, CEO, Inorbit Malls said, "We are elated to have won a Gold at ICSC's Asia Pacific Shopping Center Awards. We thank our partners and sponsors who have supported us and look forward to promoting more women entrepreneurs in our country through this initiative. The award underlines our belief in the transformative value Pink Power initiative carries and we look forward to taking it to the next level"
This award takes the count of Inorbit's award count to 72. Inorbit Mall Malad recently won the Best hangouts of the city by Big Mumbai City Pride Award hosted by 92.7 BIG FM.