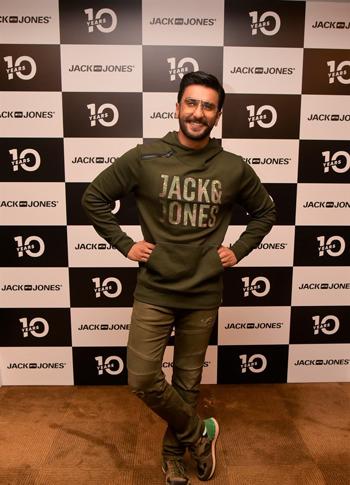 High street fashion labels JACK & JONES, VERO MODA, ONLY celebrated completing 10 path-breaking years of fashion in India at a gala in Mumbai. The star-studded evening saw the unveiling of SELECTED HOMME, JUNAROSE and ONLY & SONS' AW'18 collections. The event was attended by Bollywood's fashionable young brigade Ranveer Singh for JACK & JONES, Sonakshi Sinha for VERO MODA, Kiara Advani for ONLY, Jim Sarbh for SELECTED HOMME, Shikha Talsania for JUNAROSE and Priyank Sharma for ONLY & SONS. Each sporting a look from the latest collections, the celebrities took to the ramp and introduced the soon-to-launch AW'18 collection in a fun unique way.
The celebration attended by leaders from the world of business, retail, fashion and lifestyle who raised a toast to the brand. Pop-Rock music band ONEmpire brought the house down by performing a few famous hits.
The 10th year anniversary celebrations kicked off with actress and fashionista Kiara Advani walking the ramp for ONLY India. Television sensation Priyank Sharma was at his fashionable best as he took the ramp for ONLY & SONS. Actress Shikha Talsania took to the ramp in JUNAROSE to celebrate fashion for women with curves. Critically acclaimed Actor Jim Sarbh looked dapper and suave as he sported a look from the premium menswear brand SELECTED HOMME. Fashion icon Sonakshi Sinha looked surreal in a look from VERO MODA. The show concluded with an energetic performance by Brand Ambassador Ranveer Singh as he took to the ramp for JACK & JONES.
Speaking on the occasion, Vineet Gautam, CEO & Country Head, BESTSELLER India said, "This evening is an extremely special one as it marks a momentous decade of JACK&JONES, VERO MODA and ONLY in India. It is the constant support that we have received from our partners, loyalists and consumers that has allowed us to further diversify our portfolio with premium menswear fashion by SELECTED HOMME, plus size offerings by JUNAROSE and effortlessly casual styles for men by ONLY & SONS. Truly grateful for the love, success and growth our brands continue to enjoy in India. This journey has been an extraordinary one for us and cannot wait for the incredible years that lie ahead."
Brand Ambassador for JACK&JONES Ranveer Singh added, "I'm really proud of being associated with JACK&JONES! Driving the brand is a team that is passionate about delivering top quality apparel to the youth, thus empowering them with cutting-edge, boundary-pushing style. It's been awesome to have been a part of JACK&JONES' exhilarating 10-year journey in India and I wish JACK & JONES continued success! I look forward to creating many more iconic moments that stay true to our motto of DON'T HOLD BACK!"
Showstopper for VERO MODA Sonakshi Sinha said, Showstopper for VERO MODA Sonakshi Sinha said, "Fashion is such an integral part of my life and profession. The VERO MODA woman is an empowered, fierce individual aka a total goal-digger – just like me. I'm really happy i got to celebrate this joyous occasion with the brand. A big thank you to VERO MODA for such an unforgettable night."
Showstopper for ONLY Kiara Advani adds, Showstopper for ONLY Kiara Advani adds, "ONLY is such a fun, flirty and edgy brand that's been a part of my wardrobe for the longest time. The brand has an extensive and enviable range of denims, that have had my back at every occasion. I am proud to be an ONLY girl and cannot wait for the A/W'18 collection to hit the stores."
Showstopper for SELECTED HOMME Jim Sarbh said, "This will be my first rendezvous with SELECTED HOMME and I am looking forward to be a part of this event as a show stopper, and to flaunt their clothes. I don't really like to define my style, but as they say, it's all in the details, and that is what SELECTED HOMME wants to be about."
Showstopper for JUNAROSE Shikha Tulsania adds, "JUNAROSE is the answer to the needs of all the curvaceous women who seek wardrobe choices that are fashionable and trendy. The AW'18 collection is marked by simplicity and timeless minimalism. It allows every woman to embrace the goddess in her and live every day to the fullest. I truly believe that when life gives you curves, you flaunt them and through this eclectic collection women like me can do just that!"
Showstopper for ONLY&SONS, Priyank Sharma said, "It's been an absolute pleasure to be putting my fashionable foot forward at the ONLY&SONS' grand celebration this evening. It is one of my favourite brands; comfortable yet edgy, laid back but so trendy – I love it and I know that fashion forward men everywhere do too. This Autumn Winter collection is their best one yet, with lots of uber cool sweatshirts, awesome graphic tees, easy tank tops, muscle tees and an enviable range of denims – stylish staples that one can always find in my wardrobe."